Here is a trustworthy saying: Whoever aspires to be an overseer desires a noble task.
Now the overseer is to be above reproach, faithful to his wife, temperate, self-controlled, respectable, hospitable, able to teach,
not given to drunkenness, not violent but gentle, not quarrelsome, not a lover of money.
He must manage his own family well and see that his children obey him, and he must do so in a manner worthy of full respect.
(If anyone does not know how to manage his own family, how can he take care of God's church?)
He must not be a recent convert, or he may become conceited and fall under the same judgment as the devil.
He must also have a good reputation with outsiders, so that he will not fall into disgrace and into the devil's trap.
Michael Gormican – Senior Pastor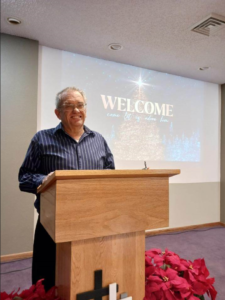 I was born in Hollywood California. My parents divorced shortly after I was born and my maternal grandmother raised me from 3 years old on. My grandmother was telling me about Jesus when I was five years old and how sinners would go to hell if they did not believe in Jesus as their savior. I asked Jesus to save me at that time. I remember my excitement at becoming a Christian even at that age.
I attended Middleton Baptist Church (now High Point) when it first started. Richard Krenz was the pastor and he baptized me at the age of ten. A bible church started in my home town of Black Earth when I was a teenager. The youth leaders taught us very well from the bible. Oscar Hunerdosse, a Moody grad, was the pastor at Black Earth Congregational church at that time. After I graduated high school, I worked for a year before going to Grand Rapids School of the Bible and Music where I discovered my call to the ministry when I was a Junior there.
After I graduated from Grand Rapids, I went to the University of Wisconsin Madison to study Ancient History earning my BA and graduating in 1987. While there I was on the board at my home church, assistant youth leader, K Mart employee and interim pastor at Arena Bible Church. On January 7, 1984 I married my high school sweet heart, Carolyn Evenson. I was ordained in 1983 and was called to my first church, Madison East Bible Church in December 1983. I served there till 1990 when I left and worked two factory jobs for about 14 years. We moved to Portage and attended Grace Bible Church where I served as associate pastor. I served as full time associate until 2007 when I received the call to help start Faith Bible Church in Rio Wisconsin. My wife and I had two sons. The oldest, Tim, died in a car accident in 2006. Our youngest son, Ben, is a volunteer fireman. God has been good to us throughout these many years of service.
In Christ: Pastor Mike Gormican
Ramsey Bobzin – Youth Pastor
I have served as the youth pastor at Faith Bible Church since 2008. Since then, I have devoted a large part of my life to ministering to and serving the youth in our community and surrounding areas. I am a catalyst for positive change through my dedication to teaching the scriptures. We take what we learn from the Bible and apply it in our daily walk with Jesus Christ.
I proudly defended our country while serving in the United States Marine Corps.
I have a wife and two children and am honored to be enjoying the journey of life with them. With the extra time I do have, I enjoy: fishing, paddle boarding, playing guitar, curling, and most of all…DISC GOLF
!
Our Elders
Steve Dykstra, Board of Elders Treasurer – sdkstr@gmail.com